Gnuplot
Gnuplot is an easy to use two and three dimensional graphing program. Some of its nice features include
easy generation of postscript.
support for X11 in Unix versions.
support for all functions in the Unix math library
ability to read data files
support for contout plots
excellent online help system - just type "help"
The Gnuplot reference manual in HTML format is a copy from the original at the Dartmouth CS department.

The Gnuplot 3.5 binary is located on Superior in the directory /usr/local/bin. The distribution is in /local/gnuplot.

The Mac Version is in the Graphics subfolder of Mathlab Fileserver.

A simple example of plotting two functions of 1 variable is:

        set samples 500
        plot [x=-.1 : .1 ] [ -.01 : .01 ] x**2*sin(1/x),x**2

resulting in
---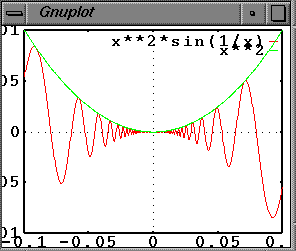 ---
To plot a datafile

       set parametric
       plot "data.dat" with linespoints

where "data.dat" might contain

0 1
1 10
2 45
3 120
4 210
5 252
6 210
7 120
8 45
9 10
10 1

giving
---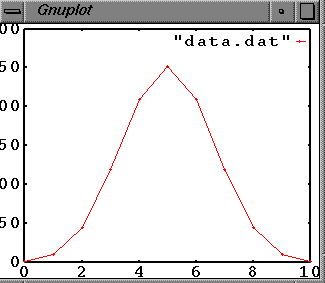 ---
To generate postscript:

        set output "picture.ps"
        set term postscript

Surface plotting from a data file can be done by

       set parametric
       splot "data.dat"

where "data.dat" contains 3 column data.

The view can be adjusted by

       set view 45

to rotate by 45 degrees about the x axis, as well as more complicated set view commands.

It is also possible to plot both parametric and non-parametric functions using splot.
Home Page
Last Update: June 20, 1996